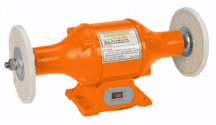 8" Buffer - 40668

Ratings: (5 is best)



1 2 3 4 5

Review by Goomer on January 24th, 2013

Here's a tool I take for granted, but find myself going to often. Better than a bench grinder as the motor housing doesn't get in the way so much. I use this mostly for deburring with a flap sanding wheel mounted on the left (like 93016), a large dense buffing wheel on the right (not a HF wheel). Its worked well for over 8 years now. Doesn't get used daily, but frequently. The buffing wheel is generally for putting a finish edge on a blade. The flap sander wheel does a wonderful job of taking off burrs on freshly cut metal. At the same time I bought this, a friend bought one for about 5 times the price. His was a commercial machine, for sure, but we speculated on how long this would last. Well, the HF is doing fine, I wouldn't hesitate to buy another if this ever bites the dust, but it seems to have no problems. Does everything I want and then some.
Post a Review
Log in or create a user account to post a review!