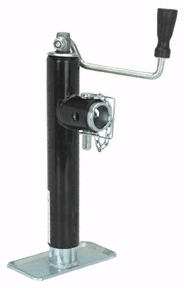 2000 Lb. Capacity Swing-Back Trailer Jack with Ring Mount Swivel - 41006

Ratings: (5 is best)



1 2 3 4 5

Review by Goomer on March 28th, 2012

I have several trailers and always thought that this cranking up and down of the trailer jack was a real pain. The HF trailer components are minimal strength and don't take well to the bolt on jack that comes with them. The clamps were constantly slipping, the jack would go askew, and the imbalance of having the jack way off on the side member, so the damn wheel would hang up was really irritating. I saw these on sale at the store and said, what the hell, I'm in for two.

I welded a piece of 2" X 2" square steel tube for and aft from the trailer to the hitch. Figured out where I wanted this jack and welded the socket to the square tube. And it works beautifully.

The trailer is light enough I can lift the tongue with little effort to connect up to the ball hitch. So, the jack is set to be a couple inches below the ball hitch. I back up the vehicle, lift the trailer tongue onto the ball, pull the pin on the jack, pivot it to horizontal, lock it in with the pin and its done. No cranking, no having to raise or lower the jack, for my intents it may never have to be adjusted. It cranks easily, just don't need to do that anymore.

Only complaint and its really pretty minor is the pin only wants to go through the holes one way. If horizontal, the pin has to go crosswise, if vertical, it has to go in vertically. Some minor misalignment in the holes prevents it from going in any direction. No big deal, figured that out, decided it wasn't worth the effort to real anything out, I'll just live with it. Quite happy with my purchase and the effort to install it was worthwhile.
Post a Review
Log in or create a user account to post a review!