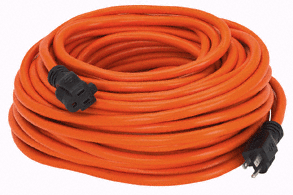 100 Ft. 12 Gauge Outdoor Extension Cord - 41445

Ratings: (5 is best)



1 2 3 4 5

Review by Bigplanz on November 8th, 2009

Excellent buy if you catch it on sale. I got mine for about $38. It was on sale, plus I had a 10% discount coupon on anything in the store. Less than $40 for a 100 foot, 12 gauge extension cord was too good a deal to pass up. Since I've had it, I've run a 16 gallon shop vac on it, an electric chain saw, various weedeaters and trimmers. No problem with any of the loads, and none of the machines ran hot excessive current draw on too thin a cord. Big, and heavy, it is a workout to lug it around, but it is worth it.
Post a Review
Log in or create a user account to post a review!