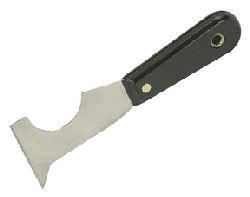 5-in-1 Painter's Tool - 41500

Ratings: (5 is best)



1 2 3 4 5

Review by photoleif on March 22nd, 2012

Don't just get one. Get several. Regular price of $2 is still crazy cheap compared to big-box price. When they were on sale for $1.49, two of them jumped into my basket. These are great for painting, of course, and also are good for clearing old caulk, light prying, scoring up surfaces prior to gluing, scraping, and generally getting dangerous on projects.
Post a Review
Log in or create a user account to post a review!