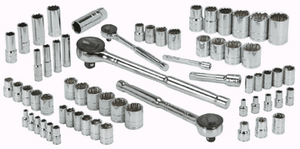 65 Piece 1/4", 3/8", and 1/2" Socket Set - 4178

Ratings: (5 is best)



1 2 3 4 5

Review by Indy_500 on April 18th, 2010

Works pretty good. Ratchets are better than expected, sockets have held up great. I pound on them and use them as a "press" sometimes and haven't broken a thing yet.
Post a Review
Log in or create a user account to post a review!