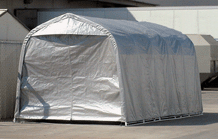 Portable Garage - 42211

Ratings: (5 is best)



1 2 3 4 5

Review by marwood0 on April 16th, 2010

Bought two of these. Tarp doesn't even last a year in Denver, CO but in lower altitudes or in shade should last a little longer. The parts rely on the tarp to hold it together which doesn't happen for long, then the wind will eventually knock it down. I rebuilt mine many times and replaced the tarps.

I put both of mine end-to-end, made my own stakes out of 3ft rebar, used rope across the tops to hold them together, and gorilla duct tape to hold each joint. I bought a 36ft Supertarp and made the two garages into one long one. The Supertarp is far superior to the HF tarps and it held up fine under the wind. It was great! Then 18" of snow collapsed the whole thing. Note that the super tarp still held it all together even when flat.

This will be fine out of sun, wind, and snow. Otherwise do yourself a favor: If you want a portable structure that lasts, build it out of EMT conduit and a real outdoor-rated tarp for the same amount of money this costs.
Post a Review
Log in or create a user account to post a review!