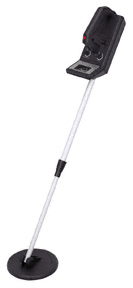 5 FUNCTION METAL DETECTOR - 43150

Ratings: (5 is best)



1 2 3 4 5

Review by photoleif on March 22nd, 2012

Set up with new batteries, read the manual thoroughly, tested, learned, and then took out in the field to try to find lot marker corner pins. These are 3/4" x 24" iron rebar. This detector was finding .45 casings, bits of aluminum foil, old gum wrappers, rusty cans, and so on... and it would not beep at all when it was directly above a corner pin in plain sight. I tried different angles, I tried nearby, higher, lower, different squelch settings, and nothing, nothing, worked. I was able to find a needle, literally, in a pile of leaves, yet couldn't locate a 15-pound iron slug. So... if you're after coins, hairpins, lost wedding rings and your own sanity, you will find it. If you're after the definitive corners of your lot, this is not the tool for you. I'm giving this a 2 rating because it failed completely to do what I needed, but I suspect beachcombers will be thrilled and give it a 4 or 5.
Post a Review
Log in or create a user account to post a review!