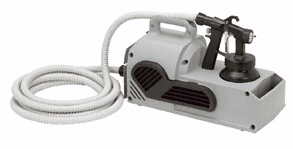 High Volume, Low Pressure Spray Gun Kit - 44677

Ratings: (5 is best)



1 2 3 4 5

Review by Goomer on January 29th, 2010

I have spent a lot more money on similar sprayers that were no better or even worse than this one. It won't spray a very heavy product such as a latex house paint well straight out of the can, you will have to thin it down a bit. But does a very nice job on say, a urethane wood finish. The spray gun is all plastic and is to clean up, nothing much wants to stick to the sprayer plastic. Seems to be durable, both sprayer and motor. The motor warms the air a bit which is a good thing, giving warm dry air to the product you are spraying. A good buy.
Post a Review
Log in or create a user account to post a review!