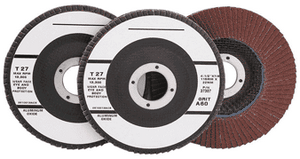 Pack of 3 4-1/2" 60 Grit Flap Discs - 44973

Ratings: (5 is best)



1 2 3 4 5

Review by Goomer on January 29th, 2010

A nice flap disk, they don't have as much total abrasive area as say, a Norton, but the price is quite good. There are better ones out there, but weighing the cost over the life of the disk, these are generally what I buy. They start out quite aggressive, but soon leave a nice finish, not a 60 grit looking one, more like 100. Keeping that in mind, I'm still good with them.
Post a Review
Log in or create a user account to post a review!