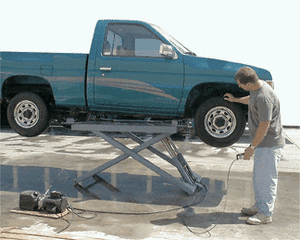 6000 Lb. Capacity Scissor Lift with Hydraulic Pump - 46604

Ratings: (5 is best)



1 2 3 4 5

Review by IONH on April 18th, 2010

The motor came wired backward so the motor spun in the wrong direction and wouldn't pump fluid. I figured this out by taking the hydraulic pump sandwich plate off and attaching a drill to figure out what direction it should spin and to verify the sandwich worked. Once that was fixed, the lift worked right away and required no significant bleeding.

The minimum height is an issue with all of my cars, but with the rubber posts removed, I can get on it with just one 2x4. With my other car it requires I get a little higher so I built some ramps which are about 6" tall that I can drive the entire car on and lift from there.

Overall, I am pleased with this lift. I gave it a 4 due to the week or so off and on it took me to rewire the issue. HF technical support suggested the wires were wrong on my second call which I had prematurely dismissed as I did not wire the motor itself. Apparently they had seen this before. This is the only reason I put 4 instead of 5 stars.

Also, my garage ceiling is only about 8.5'. If my SUV is on it, I cannot raise the lift enough to engage a lock as the first locking point is too high. Because of this, I am sure to always toss a tire under the side if I am working below just in case the car decides to fall. No issues with sagging/falling yet though in the dozen or so times I have used the lift even if I left the SUV on it overnight.
Post a Review
Log in or create a user account to post a review!