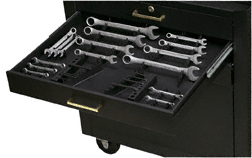 76 Piece Wrench Organizer - 46884

Ratings: (5 is best)



1 2 3 4 5

Review by jayw on January 30th, 2013

Marginally OK - IF you want to waste lots of valuable wrench drawer space on a handful of allen wrenches. fyou use allen wrenches much you probably have a t-handle set (hopefully not one of the notoriously chintzy Harbor Freight ones) so this is a compete waste of tool chest real estate. This could be a good product if they redesigned it and gave you more wrench space (offsets etc) instead of the allen key caddies.

But here's the real burner:

I have a Master Force tool chest, this thing was 1/4" too deep. Fine, package says easy to cut, right? So I'll cut it down, right? NOT. The plastic is brittle and very gummy when cut. You can't use a knife, you have to use a saw. I used a jigsaw with 18T blade which DID cut it, but it melted as I cut. Result: one f****d up Harbor Freight wrench organizer in the recycle bin tonight.

Maybe there's a secret to cutting this kind of plastic that I am not aware of. This item is sold all over the place, this is not just an HF thing. If you can use it as is and don't care about the allen keys wasting valuable wrench drawer real estate, go for it. Otherwise, buy individual organizers from Amazon or something.
Post a Review
Log in or create a user account to post a review!