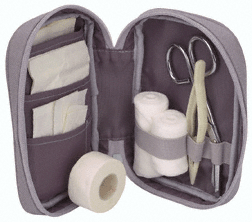 40 Piece First Aid Travel Kit - 47456

Ratings: (5 is best)



1 2 3 4 5

Review by Stormin Mormon on April 10th, 2012

The adhesive bandages, the glue is over aggressive. Hard to peel the plastic off. The roll of tape is nearly useless, too. It's a nice concept, but it needs real bandages. I didn't check the gauze, but they are probably not great. I'm going to put some other brand of bandages, tape, and add some pain relief pills to the kit. Also add triple antibiotic cream with pain relief. Safety pin to pick splinters out. Might cram in some other real first aid stuff. It would be nice if the kit had a belt loop, so I could carry it to the woods.
Post a Review
Log in or create a user account to post a review!