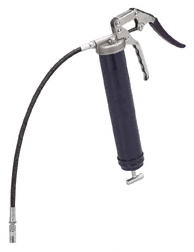 PROFESSIONAL QUALITY PISTOL GRIP GREASE GUN - 47520

Ratings: (5 is best)



1 2 3 4 5

Review by Bigplanz on October 10th, 2010

Another good item to catch on-sale, with a 20% off coupon. I got it for less than $11. I bought a 14 oz tube of their 'red' grease, and took it home to lube up the tie rods and ball joints on my mini-van. Note: prime it, make sure grease is flowing from the end of the hose before you use it. I had to open the vent fitting to get rid of the air in the line, then take the coupler off the hose to get the grease flowing. Not really a big deal, since I have had to do this on every grease gun I've ever used, but if you have never used one before, you will be very frustrated if you don't know to do this. Anyway, once primed and vented, grease will flow from the end of the hose freely.

Once you have it going, clean off the zerk fitting and squeeze until the boot is firm. NOTE: pay the extra for a pistol grip gun. Lever action are a PITA because you are always in an awkward position under the car and it is so much easier to just squeeze the trigger.
Post a Review
Log in or create a user account to post a review!