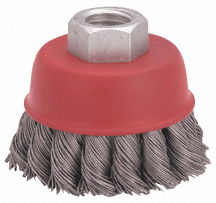 2-1/2" Twisted Wire Cup Brush - 47926

Ratings: (5 is best)



1 2 3 4 5

Review by photoleif on March 22nd, 2012

Will rip and shred rust as if it's hardly there. Makes a huge dusty mess, so have your shop vac close at hand, or even better, a strong wind or an assistant to hold the shop vac wand. Seems durable enough. Storage, oddly, is a problem for me since the bristles are so $#(* sharp and have a missile guidance system to direct them under fingernails. I ended up putting a 3/8-16 eye bolt in the top, store it high up in my workroom, and then I retrieve it using a grabber.
Post a Review
Log in or create a user account to post a review!