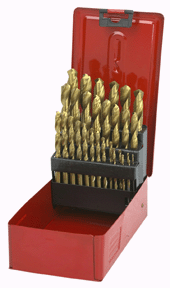 29 Piece Titanium Nitride Coated Drill Bit Set - 5889

Ratings: (5 is best)


1 2 3 4 5

Review by photoleif on March 20th, 2012

I agree with @fubared that these are a bit soft. I still really like the set and in fact bought a backup set on sale because I use them constantly. They're great for wood, and work adequately on mild steel. They are inadequate if the slightest bit dull for use on hardened or spring steel, for instance. They also walk, which annoys me and has me concerned that they'll snap. I have broken a few, which is largely operator error, and that's why I restock using the sets of often-used bits.

I still consider this set an excellent buy despite the concerns I listed. Like @stevet47, I have some cobalt bits which I use for the tough jobs, but these are my daily use bits and I'm happy with them.

Review by stevet47 on November 20th, 2011

I have had this set for about 2 years, and use them for work. I drill wood, steel, aluminum, plexiglass, etc with them, and have never had a complaint. They are very good bits period, and cannot be beat for the price. I also have a set of Irwin Cobalt bits, which do work better, but at 4x the price, these are the bits I use daily, and I save the cobalt bits for when I really need them. I have only broken 2 of them, and they were some of the smallest, which can happen with any tiny bits, so I don't blame that on the bits.


Review by fubared on May 20th, 2010

Super soft bits, go dull by looking at them. Only good for LIGHT metal drilling or drilling wood. They break easily, I use them for wood. WAY too expensive for the quality, I bought mine for $13 about 2 years ago.
Post a Review
Log in or create a user account to post a review!