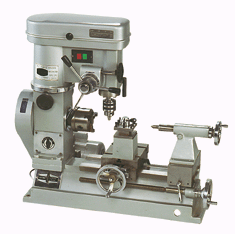 MULTIPURPOSE MACHINE - 5980

Ratings: (5 is best)



1 2 3 4 5

Review by dld on January 12th, 2010

You get two machines for the cost of one, and the lathe is fairly large, 14x14, or 10x14 if you take the saddle into consideration. The x-axis works well and has uniform play. The y-axis has terrible play that increases as the table extends past the smaller dovetail. The spindle feed is very course and difficult to tune. All feeds are labeled in inches yet the lead screws are metric, so they use an inaccurate conversion. The mill head isn't stiff enough for most milling at full extension, and even at full extension cannot quite reach the included vice. The vice does not have a flat ground base surface, so setup is much more time consuming. As a drill press, lack of much spindle range makes setup there also time consuming, and limits what can be drilled.

Post a Review
Log in or create a user account to post a review!