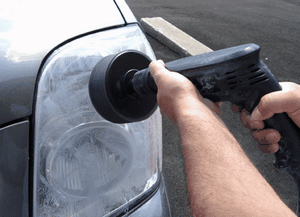 12 Minute Headlamp Lens Restorer Kit - 65938

Ratings: (5 is best)



1 2 3 4 5

Review by photoleif on March 23rd, 2012

Superb results. I was a bit skeptical when I saw the kit, to be honest. It's some foam and abrasive pads to stick to it, and a small bottle of goo. I got out the mister and went at it. About, gee, 12 minutes later, the car is covered with splatter and the headlamps are gleaming new. I'm so happy I got this. A great use of $10.

Lessons learned: be very cautious about removing the backing to reveal the self-adhesive face. The foam can rip if you're not careful. I gave up on fingernails and went with a knife, which went great. Also, protect the vehicle with towels. Scrunch them anywhere you can, to keep spatter from going under a bug guard, on other things in the garage, you name it. This makes a mess.
Post a Review
Log in or create a user account to post a review!