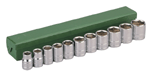 11 Piece 3/8" Drive Metric Socket Set - 7407

Ratings: (5 is best)



1 2 3 4 5

Review by djbecker on August 3rd, 2010


Grrrr, just lost a long, carefully written review because this site wanted me to login a second time. So this a frustrated minimal summary.

11 sockets from 10mm to 20mm skipping no size.
Very nice polished surface, with even chrome plating.
The sockets are 30.0mm long, with the flank depth increasing from 11mm to 16mm deep as the size increases. They are 12pt and may have an issue driving subsize or already-rounded fasteners.

The size numbers are 5mm high. The complete stamping reads "Chrome Vanadium XXmm Taiwan".

Mediocre sheet metal case 12.0"x1.7". The edges just butt together, with no wrap-around or reinforcement. The sockets take only about 10", and the extra space is taken up by thin vacuum molded plastic.


These are very nice looking sockets, and they feel like quality tools. The only question is how they will deal with tough fasteners, which I haven't tested. The box on the other hand has the cheapest possible build and won't survive anything more than gentle treatment in a tool box drawer.



Post a Review
Log in or create a user account to post a review!