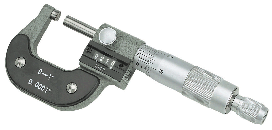 0 to 1" Range Digital Micrometer - 895

Ratings: (5 is best)



1 2 3 4 5

Review by Goomer on October 30th, 2016

In a word, "Nice". There are those rare occasions that I feel the need to measure something with more accuracy than I can get out of my calipers. I looked at the Harbor Freight website and decided that I wanted the set of three micrometers. They were out. This is what they had. It wasn't until I got home that I opened the box and realized that this is actually a digital micrometer without the batteries. It has all the vernier scales that I can never remember how to read, but below the knob you see on the side, what is called the "thimble lock", is a mechanical digital "display". It will tell you what the measurement is to within a thousand's of an inch. If I want more accuracy, I can go read the ten thousand's measurement from the vernier scale and add it to the digital display as the fourth digit.

For my purposes, this is perfectly adequate, accuracy is from my perspective and tests, perfect. It feels well made, has some heft to it. Machining and finish are high quality. It comes with a wrench to re-adjust to zero if necessary. The owner's manual is not much.

I hadn't realized it had the digital feature. I have some digital calipers, but invariably they seem to have a dead or low battery. I am very pleased with this purchase. I have a Starrett dial calipers that I dropped and nearly cried over. I think that sooner or later anything that you use will get dropped or knocked off a bench, just part of life. I will feel badly over this, but I probably won't shed tears.
Post a Review
Log in or create a user account to post a review!