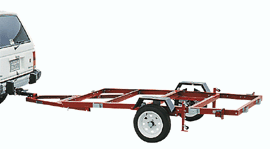 1175 Lb. Capacity 48" x 96" Heavy Duty Foldable Utility Trailer with 12" Wheels - 90154

Ratings: (5 is best)



1 2 3 4 5

Review by bahhumbucker on September 12th, 2014

There are two listings for this trailer - I gave a more detailed review in the other one, now that I've made several mods and lived with it. Bottom line, it works, and it's cheap. I wouldn't trust it on the highway. By the time you make all the mods that you probably should make, you will probably wish you bought a better one used off of craigslist. But if you don't mind tinkering, and will be using it for very light duty, it's ok. I gave it a "2" but would have given it a 3 if it didn't suck up so much time.

Review by bahhumbucker on October 28th, 2013

I needed a folding trailer, and for less than $220 (with a 25% off coupon) this was about a third of the price of others. It's a very light duty, fairly flimsy design. The instructions were easy to follow, but if you simply bolt it together, it won't come out very square. Your best bet is to us a framing square and ensure that all the parts result in the two main bed sections ending up square as you go through the assembly process. Mine was open-box; the local store had one where one of the two boxes had fallen apart. However, when I got home I learned that the running gear parts I had were from the heavy duty non-folding trailer. The store scrounged the parts I needed for the folding model, but told me to keep the 5 lug wheels (this model is supposed to have 4 lug wheels) and also the 2" coupler (this model is supposed to have a 1-7/8" coupler). The 5 lug wheels fit on the axle fine, so I came out ahead there. The 2" coupler requires some modification, but was worth it since most items I hitch to require a 2" ball. Overall, my biggest complaint is that there seem to be obvious places where a nut and bolt should be, but the designers of this thing didn't put one in those places. Easy to remedy with an electric drill. The folding mechanism works fine. Mine (2013 model) does not fold flush like TucsonK5's - they must have fixed this. There is room for the plywood decking. But, the hinge plates are very, very thin and probably won't hold up. I will probably make some heavier ones up at some point. The casters supplied with the trailer are utter garbage. These need to be upgraded - they are hard plastic and sure to crack in short order. When you fold the trailer, there is no mechanism to hold it "folded". The instructions advise you to use a bungee cord or rope. Seems like there should be a pin or two to hold it. The bungee idea will certainly work... but it's a hassle to run out and get if you don't happen to have one hanging around. As TucsonK5 noted, if you build the stake sides like the instructions say, you won't have 48" anymore... so you have to do it differently than the instructions (not a big deal if you realize the problem beforehand). Overall, it's a cheap light duty trailer and like many HF items, you would have to be pretty brave to try to use it at its full rating. In this case, I don't think I would load it with 1000 pounds. Seems like a recipe for disaster. Still, you can't get any other serviceable trailer for this cheap, so as long as you're planning on light loads, it's ok.

Review by darkniss on April 9th, 2010

I use this trailer to haul my honda 400ex, and it works perfect no problems at all. Also used it to haul over 40 12ft long deck boards, also with no problems. Like others said lights are not in the best spot, can get damaged easy. The folding part is useless to difficult, and time consuming. Again like most things at HF for the price cant beat it, got it on sale with coupon for under $250.00

Review by Goomer on January 30th, 2010

An adequate trailer for the money. You put on your own deck and side rails, that cost me about as much as the trailer itself, but you can configure it to the way you want it, change it around, its very versatile. Putting it together and getting the deck on it the way I wanted was a good weekend's worth of work.

Like the previous reviewer said, another inch would improve things considerably when loading 4' wide goods. The lights are fragile, but pretty cheap to replace.

The one I ordered ( 94564) got lost in shipping for a couple weeks and I needed a trailer right then. This is the only one the store had on sale at the time, which is why I ended up with a foldable trailer. I put it together to start with as a foldable trailer and played with it a bit, then bolted the two halves together so it couldn't fold and ran the 3/4" treated plywood across it in one piece. I couldn't see myself ever wanting to go to the trouble of folding it.

The only problem I had was the grounding for the lights, the solution that was recommended and I finally did was to run a separate ground wire around to all the lights. The trailer is heavily powder coated and that makes it hard to get a good ground at each light. Another suggestion that was made after it was built I wish I had done is to put the wires in plastic pipe or conduit tucked inside the trailer frame so the wires (which tend to hang and droop) wouldn't snag when going over brush off the beaten path. I have loaded this to the max and then some and it trailers just fine.

A really slick idea (I don't think its common) is the zerk fittings on the back side of each wheel. Just lift up a corner, pump it full of grease every once in awhile and the bearings and axle are greased.

This is the first HF trailer I put together, on the other one I put fairly tall posts in the two back corners with orange tops on them. Makes the end of the trailer much more visible when backing up. I'll change this one of these days.

I would not buy another one of these unless the sale price was very good, I'd choose the heavier duty model. This is my garbage and debris hauler trailer.

Review by TucsonK5 on November 25th, 2009

It fulfills the duty of relatively light-weight trailer. Not the stiffest frame; it has a bit of flex (even after I welded mine together, instead of just the bolts). The folding part is worthless, once you put a deck on it you won't be able to fold it (even if you cut your deck to fold) because the frame folds flush with itself, any material on the deck will just prevent folding. It is also too bad that the frame isn't 49" wide, because once you put on some sort of side you don't have 48" anymore, so hauling plywood or any sheet goods can be a pain. Lights are unprotected and get broken easily. Road manners are fine. Still a good buy.
Post a Review
Log in or create a user account to post a review!