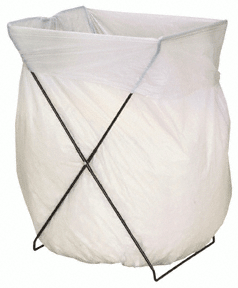 COLLAPSIBLE TRASH BAG STAND - 90430

Ratings: (5 is best)



1 2 3 4 5

Review by Goomer on January 7th, 2013

This is a good idea, with the collapsible fold up idea being appealing. And the price ($8.50 on sale) the incentive. Well, should have believed the HF reviews under the item, when filled (filled, not stuffed), it is impossible to remove the bag without ripping it on the hinges. And in the course of trying to remove it the top section (its in two parts, sloppily sleeved together) comes undone from the bottom and lifts off with it. I studied it for awhile and thought about welding the top to the bottom, not a big deal. But the washers that rip the bag are another story. Could wrap them with duct tape, but then my "collapsible fold up" advantage goes away. Probably use the metal rod for some other project. A much better way is to use the proper sized plastic trash can. Maybe use it to reinforce my nearly worthless HF large animal trap.
Post a Review
Log in or create a user account to post a review!