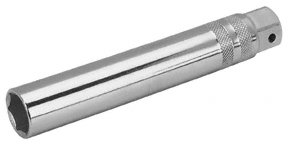 EXTENDED REACH SPARK PLUG SOCKET - 91705

Ratings: (5 is best)



1 2 3 4 5

Review by Bigplanz on March 8th, 2010

Works quite well. Cheap too. I got mine for $4. What I like is that when I get the plug started I can reach in deep, get the socket on it and (while leaning over the engine compartment with my feet practically off the ground and unable to see what I'm doing) I can feel the knurled end of the socket and turn the plug in until it's snug and I am sure I haven't cross threaded it. Then, put on a 3/8 inch ratchet and tighten it down. Works really well, particularly on those insanely PITA 2.8L, 3.1L, 3.4L, etc. GM V-6s.
Post a Review
Log in or create a user account to post a review!