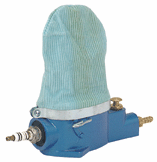 PNEUMATIC SPARK PLUG CLEANER - 32860

Ratings: (5 is best)



1 2 3 4 5

Review by darkniss on April 25th, 2010

Got it on sale for $9.99, payed for itself first day. Used it to clean lawnmwer, weedwacker, blower, snowblower, atv, jetski and boat. worked on 2 stroke & 4 stroke plugs, cleaned then up really nice and easy to use.
Post a Review
Log in or create a user account to post a review!