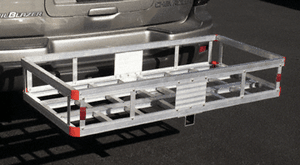 500 LB. CAPACITY ALUMINUM CARGO CARRIER - 92655

Ratings: (5 is best)


1 2 3 4 5

Review by Bigplanz on June 13th, 2016

I got the steel version of this. Same weight rating, 500 pounds. It is a little (10 pounds, maybe) heavier than the aluminium version, and is black in color. It was $45 on sale (sidewalk sale). Regular price $70. It went together easily. I put locktight on all the bolt threads, and since it came with a hitch pin, I just slid it on to the back of my Navigator and away I went to pick up potting soil at Lowes. For the money, this is well worth it. Heavy, dirty items can go in the cargo carrier, not in the SUV. There are three reflectors on the back of it, so you can haul stuff at night safely.
Post a Review
Log in or create a user account to post a review!