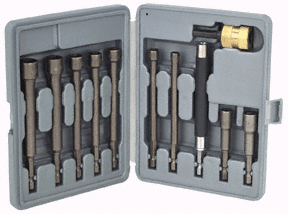 11 Piece Quick Change Nut Drivers - 92905

Ratings: (5 is best)



1 2 3 4 5

Review by Goomer on March 23rd, 2012

I have two of these, one in the work van and one in the shop. The nut drivers work just fine. I've never used the quick change adapter, don't need it, just chuck up the drivers directly. The what HF calls the "long shaft screw guide" really sucks, the magnet isn't strong enough to hold a small screw driver bit, much less one of the nut drivers. But, that said what I bought it for and the price paid it is a dandy little kit in a reasonably nice durable box. When I bought this, the SAE box was orange like the metric set, making it a little confusing. Somebody must be paying attention because the color has changed on the SAE.
Post a Review
Log in or create a user account to post a review!