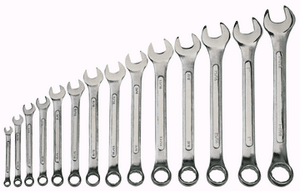 14 Piece SAE Combination Wrench Set - 93735

Ratings: (5 is best)



1 2 3 4 5

Review by Goomer on January 30th, 2010

Lifetime warranty on Harbor Freight's "Pittsburgh" line of tools. Out of several sets of HF Pittsburgh wrenches I own, I have broken two wrenches. One was just plain defective, it was a smaller wrench and just snapped, you could see the flaw in the metal where it broke. The other one I put a serious cheater on it and it broke. I took both back to the retail store, no receipt, no problem, no argument - they gave me new ones. The last time I took a Craftsman tool back that broke I got nothing but argument from them.

I think these are a great buy, cheap enough to keep in several places if you have reason to do so.
Post a Review
Log in or create a user account to post a review!