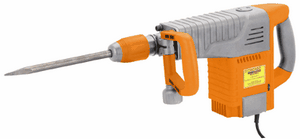 2 HORSEPOWER DEMOLITION HAMMER - 93853

Ratings: (5 is best)



1 2 3 4 5

Review by Goomer on February 15th, 2010

I forget what the sale price was when i bought this, but it was considerably below the normal list price. I hated using my good masonry hammer/drill as a chisel, so I picked this up. I have used this a whole bunch, and like it better and better. Well built, solid, lots of power for the weight, used for extended periods of time it doesn't overheat. It seriously beats a hammer and chisel.
Post a Review
Log in or create a user account to post a review!