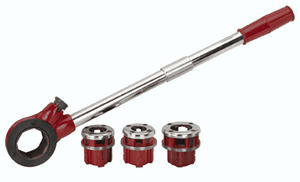 1/2" to 1" Ratcheting Pipe Threader Set - 94101

Ratings: (5 is best)



1 2 3 4 5

Review by stutzman on November 7th, 2010

I ran about 80 feet of black iron pipe around my garage as a pneumatic distribution system. I don't know off hand how many pipes I had to thread, but it was well more than 30. The vast majority of them were 1" pipe with a bit of 3/4" and 1/2".

I was down to the the last 4 or five pipes and I noticed that it was making some very rough threads. Inspecting it, I found that I had broken a few of the teeth on a die. I was using a cutting oil, but maybe not enough. It could have been my fault.

The annoying thing, though, is that the instructions say that the dies are replaceable. While I could easily get them out, I could not find replacement dies either on-line or in my local store. My research showed that this tool is really a copy of a Rigid pipe threader and I could find replacements for that. The kicker here, though, is that the Rigid replacement die was $65. That was rather shocking as I bought the complete HF set on sale for $25. What did I do? I went back and bought a second HF set to get the job done.

So if you are a tool like this on a regular basis, I would buy a better brand. I would say this set was OK if you were a casual user, but it certainly not what I would call a durable tool.
Post a Review
Log in or create a user account to post a review!