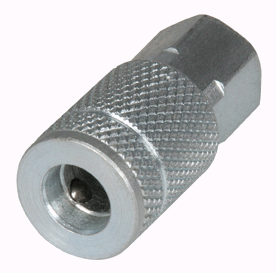 1/4" Female Industrial Quick Change Coupler - 94132

Ratings: (5 is best)



1 2 3 4 5

Review by Goomer on March 28th, 2012

More years than I can remember ago I started buying Harbor Freight air couplers. They worked great, rarely leaked, and I basically standardized on their fittings. Something has changed. A couple years ago I bought some of the female couplings and they would not go on over the existing male ends. Took them back, went through the stack of loose ones and about every 1 out of 8 would fit. Since then it has been seriously downhill. I see now all the stock numbers have changed, there are industrial, automotive, universal, Aro, and who knows what else for these fittings. Leaks seemed to be commonplace at my connections and often the fittings would release themselves under a little tension. At Home Depot one day, I bought a Campbell Hausfeld universal fitting and stuck it on the end of the shop hose. Everything I plugged in works with no leaks. I haven't gotten rid of any of the HF fittings other than the Aro (which they don't list at all anymore), but the Campbell Hausfeld are my new standard for female couplings.
Post a Review
Log in or create a user account to post a review!