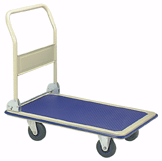 24" X 36" FOLDING PLATFORM TRUCK - 3377

Ratings: (5 is best)



1 2 3 4 5

Review by Bigplanz on February 26th, 2016

I bought the smaller version of this about two months ago. I have used it and it does work. I kept thinking, "I wish this was bigger." After a few times, I bought the bigger version. The platform is much larger, the handle is taller and wider (good, since I'm 6 foot 2) and the cart carries much more stuff. Since the platform is larger, more items can be stacked on it, so a lot of material (boxes) can be carried. The little cart works fine, but the bigger one is definitely worth the 2X the money ($44) I spent on it. Both are good. The bigger one is the one to buy, though.
Post a Review
Log in or create a user account to post a review!