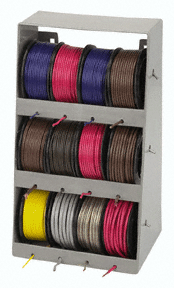 400 Ft. Wire Storehouse - 3384

Ratings: (5 is best)



1 2 3 4 5

Review by photoleif on March 22nd, 2012

I got this rack back when it was cheap, like $20 cheap. I'm still using it but I found a few things I didn't like about it, just as the other reviewers did. Here's my list:

1) Lots of brown wire, yep. What's pictured isn't what you get.
2) Random order, yep. I had to remove all reels and rearrange. I also have no use for phone wire so I gave it away.
3) The case / stand is very, very cheap. I took it all apart and put a 1/4" plywood back on it, and now it is super-sturdy and can hang on the wall easily.
4) Labels were present but fell off and since I didn't know I should write the gauge on the reels, now that's lost and I have to guess or measure them. It's not a big deal but still it's poor planning that such cheap labels were used.
5) Cheap zipcord, yep. I am using primary wire for the most part, so I am mostly immune to the problems that @justme accurately describes.

I still say that with these issues as a backdrop, the price makes the set worth it. Just know what you're getting into ahead of time.

Review by justme on September 1st, 2010

Note: My review is about the 94567 wire storehouse, virtually identical to this one only it's 250 ft. versus 400 ft. The 250 ft. product is SO bad I just had to post my review for this 400 ft. product too so anyone considering buying it knows exactly what they're getting into before they're into it.

I'm not a frequent reviewer, but this thing ticked me off so bad I had to go here and let others know. Also, know that I've got lots of Harbor Freight items that I'm relatively happy with, and lots of inexpensive "budget" tools and things in my garage, so I understand that when you pay a little you almost always have to give something up.

Value for the money... Not too bad maybe. You be the judge. I don't think so.

But be prepared for waaaaay (waaaay) more headache than it's worth for the little bit of money you might save.

1. Took over 90 minutes just to set the thing up
2. Was missing one of the three cross bars so had to make my own
3. All of the labels on the front of the rack were out of order; there was 20 ga wire on the top row, in the middle row, and on the bottom row...and not one above the other either--just scattered around randomly. Really, really lame. And you can't peel the existing labels off easily to move them around--most of them tear, so your only option is to put your own labels on over the existing ones.
4. None of the spools were labeled. They come randomly placed, and you can't tell the difference between the 18 ga, 20 ga, and 22 ga. And you can't just measure the insulation diameter (because insulation thicknesses vary, even on the same guage wire). So you have to strip all the ends, pull out your caliper, micrometer, or whatever and measure the bare conducters themselves. And of course that doesn't work well because it's stranded and you can't get a good diameter reading because the strands squash and move.
5. Get ready for a lot of BROWN. Half the spools in my set were brown. Great.
6. The insulation on all the wires is cheap. Just for one example, you can't start a split in the speaker wire and pull the halves apart--one side will tear open and the conductor will come out.
7. Due to the nature of the cheap plasticky insulation, as soon as you pull the tape off the outer layer of each spool, the wire starts unwinding itself. So once you remove the tape and install the spools in the case, it will never, ever look like it does in the picture (all neat and tidy and such). The wires uncoil, flop around, fall all over and around the adjacent spools, and they get tangled in each other.

POOR, POOR, POOR, POOR, POOR wire storehouse. I finished setting it up and mounting it on my wall ONLY out of shear spite and determination. Mostly I wanted to throw the SOB in the garbage, and almost did several times.

Please, don't bother buying this. Looks pretty straightforward, but it's a real turd.

Review by robbierob on May 1st, 2010

Wire seems to be okay but the frame was so bent it was useless.
Post a Review
Log in or create a user account to post a review!