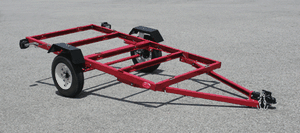 1740 Lb. Capacity Super Duty 48" x 96" Utility Trailer with 12" Five Lug Wheels and Tires - 94564

Ratings: (5 is best)



1 2 3 4 5

Review by Goomer on January 30th, 2010

A great little trailer for the money. You put on your own deck and side rails, that cost me about as much as the trailer itself, but you can configure it to the way you want it, change it around, its very versatile. Putting it together and getting the deck on it the way I wanted was a good weekend's worth of work.

The only problem I had was the grounding for the lights, the solution that was recommended and I finally did was to run a separate ground wire around to all the lights. The trailer is heavily powder coated and that makes it hard to get a good ground at each light. Another suggestion that was made after it was built I wish I had done is to put the wires in plastic pipe or conduit tucked inside the trailer frame so the wires (which tend to hang and droop) wouldn't snag when going over brush off the beaten path. I have loaded this to the max and then some and it trailers just fine.

A really slick idea (I don't think its common) is the zerk fittings on the back side of each wheel. Just lift up a corner, pump it full of grease every once in awhile and the bearings and axle are greased.

This is the second HF trailer I have, this one I put fairly tall posts in the two back corners with orange tops on them. Makes the end of the trailer much more visible when backing up.
Post a Review
Log in or create a user account to post a review!