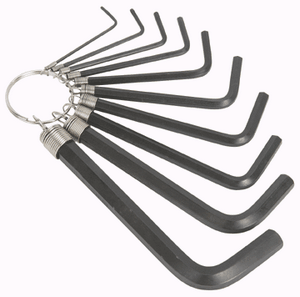 10 Piece Hex Key Set - 94597

Ratings: (5 is best)



1 2 3 4 5

Review by photoleif on March 24th, 2012

Got this set to destroy it. In a manner of speaking. I needed a hex driver to mount in a drill to set over 1000 T-nuts. By-hand is not an option with that kind of volume. So I got this set, cut the right one, chucked it up in the drill and that was the end to the misery.

I have used these to replace broken keys in other sets, and as I mentioned in another review, I recently put my vise to use as a rudimentary press using the end of one of these stuffed into the vise jaw socket. It's odd stuff like this that 'cheap' tools inspire. If you pay $30 for a set of these, you're not going to hacksaw them. But $2, you bet, and you get some unexpected progress sometimes.
Post a Review
Log in or create a user account to post a review!