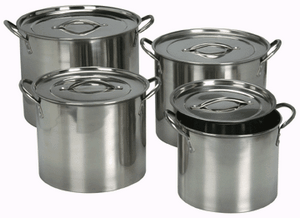 Stainless Steel 4 Piece Stock Pot Set - 94829

Ratings: (5 is best)



1 2 3 4 5

Review by photoleif on April 15th, 2013

Picked up the only one that would fit on the shelf at the store. Got it home and unboxed. First impression: slightly grimy, slightly dented, and just plain huge. After washing in hot soap and water, they clean up quite well. The lids are light, but not flimsy. The bodies aren't 1/8" thick, but what do you expect for $5 each?

I think with reasonable care, they'll last quite a while. I am intending to use one of them for soapmaking. I also see that I could feed 56 people one cup of soup each with just the largest one, so in that regard, I could feed my entire subdivision on this one set. Pretty amazing.
Post a Review
Log in or create a user account to post a review!