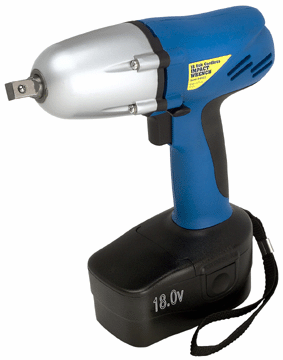 1/2" 18 Volt Cordless Impact Wrench - 94855

Ratings: (5 is best)



1 2 3 4 5

Review by Bigplanz on May 7th, 2015

I bought the latest model of this (part 60380) for $101 and kept it a couple of weeks. I took it back, went to Lowes and bought a Kobalt Lithium Ion 20V cordless impact for $280. The extra money was worth it to me, for my needs and because I could afford it. Saying that, however, this wrench did work adequately. There isn't anything "wrong" with it. For the money, it is definitely a bargain if you need something to keep in the car or around the house to take off lug nuts or lawnmower blades. I just wanted something more powerful, which the Kobalt definitely is. The Kobalt delivers every bit of its rated 350 foot pounds of torque. I doubt this harbor freight wrench delivers anywhere near its rated 330 foot pounds. However, it does work for common automotive (lug nuts) and around the house tasks. I drove a five inch long, 5/8 hex lag screw into a landscape timber with it. Struggled a bit, but it did it. Don't know if it would do 10 straight, but it did one. On my car it eventually got a rusted sway bar link nut off, but at a salvage yard, the Kobalt blew a rusted shock nut off in a split second off a 20 year old junk car. If you want or need that kind of power, the Harbor Freight isn't for you. I would recommend this to someone if they know and are ok with its limited capabilities, but it didn't suit me specifically.
Post a Review
Log in or create a user account to post a review!