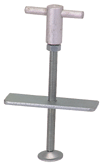 DISC BRAKE PAD PISTON COMPRESSOR - 34304

Ratings: (5 is best)



1 2 3 4 5

Review by Bigplanz on June 22nd, 2018

I have two of these. They work well and are cheap ($7.99). Just put this in the caliper, use an old brake pad to evenly spread the force and compress the piston. Sometimes, if the piston is a tight, you have to use pliers to gain leverage, but go slow and this tool works fine.

I have two of them for double piston calipers. Put in the old pad, then put these next to each other, and slightly compress one, then the other. Repeat as needed to full compress the piston.
Post a Review
Log in or create a user account to post a review!