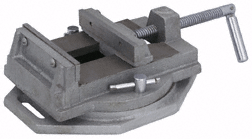 4" Capacity Swivel Base Drill Press Vise - 1631

Ratings: (5 is best)



1 2 3 4 5

Review by photoleif on March 20th, 2012

Wishing I had not purchased this item. If you drill very small holes in your stock, don't mind your drill press table sagging under the surprising weight of this vise, are fond of taking apart and greasing, adjusting and otherwise fixing tools before you can use them, then this vise is for you. The vise itself does clamp a workpiece. The problem is the action is sloppy, the vise clamps in only one direction, and also note that the vise has a drive rod that pushes the one motile jaw about a center pivot. This means if your workpiece is, let's say, jarred by your drilling, it shifts. This is just not a good product and I can't find anything positive to recommend it for. It's scrap pig iron collecting dust on an upper shelf.
Post a Review
Log in or create a user account to post a review!