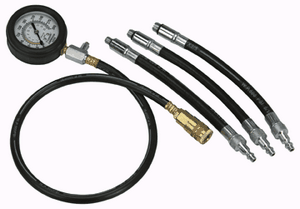 QUICK-CONNECT COMPRESSION TESTER - 95187

Ratings: (5 is best)



1 2 3 4 5

Review by WOPR on November 14th, 2010

This thing works great as a compression tester. Have hooked it up to a few cars, no leaks from it or anything. Comes in a case too, which I fell helps with keeping things organized.

The only caveat would be that the adapters did not work well for me when I attempted to use them with my leak down tester. I could not tighten the adapter into the plug hole tight enough to seal for that test (100psi). The threaded tip on the end of the adapter just spins after it becomes snug, and since the outside of it is completely cylindrical and smooth, you can't really get a tool on it. It leaked profusely when using it in this manner.

Again, it's not MEANT to be used in this way, so I don't discredit the tool at all for this; it does it's intended job just fine!
Post a Review
Log in or create a user account to post a review!