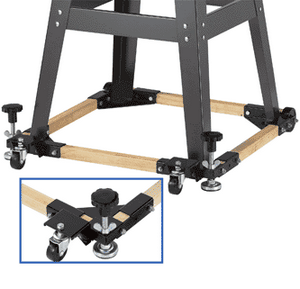 300 LB. CAPACITY MOBILE BASE - 95288

Ratings: (5 is best)



1 2 3 4 5

Review by KAdams4458 on January 30th, 2010

These mobile bases are fantastic. I was impressed with the heft and finish of the components, and even with the fasteners included. This is truly the first thing I have ever purchased at HF that was perfect right out of the box. I suspect the 300 pound weight limit is conservative, and if anything, is based solely on the solid poly wheels. I will definitely be buying more of these!

The included written instructions suck, and do not even detail complete assembly, but the pictures will get you through it. Assembly is straight forward, but will probably take most folks longer than anticipated. Yes. the 1-1/4" hardwood they want you to supply is an odd size, and if you want to use wood, count on having to rip it to rough dimensions and finish it with a jointer. I chose to use 1-1/4" steel with a 1/8" wall thickness. Regardless of whether you use wood or steel, plan on using a drill press to drill the holes.

Once assembled, the base rolls extremely well, even with 260 pounds sitting on it. Adjusting the feet to make for a stable base takes a minute, but it compensates very well for uneven floors. I also drilled the corner brackets so that I could bolt the legs of my Delta Stand to the base, and it really lends stability to everything. My saw now feels more secure bolts to this mobile base than it did sitting square on the floor, it's really easy to move around the shop, and I can even place it in spots on the floor that were too un-level to use with the stand alone.
Post a Review
Log in or create a user account to post a review!