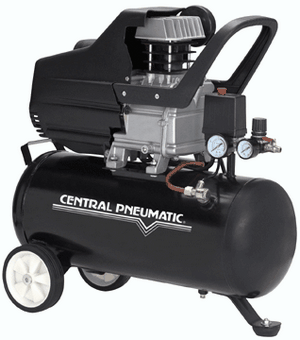 2.5 HP, 8 Gallon, 115 PSI Air Compressor - 95386

Ratings: (5 is best)



1 2 3 4 5

Review by photoleif on March 20th, 2012

Pleased with this compressor. I got the warranty and haven't needed it for anything. I don't run it a lot, maybe a couple times a month for an hour or so, so if that's your usage pattern, it's likely you'll enjoy it too. It runs all of my air tools fine. There hasn't been a time when I ran it so low that I lost power. I wish it didn't need oil, or at least had a catch can included, but I can deal with it. It's not exactly quiet, and in a closed garage I wear ear plugs when working with this and an air wrench.

If this got destroyed by some outside factor like hit backing up a vehicle, I would probably re-purchase the same unit, though I would also look at more portable ones like pancake compressors. I would recommend to a friend.

Review by Cheeptoolbuyer on February 27th, 2010

I paid $109 for my 8 gal 115V HF compressor a few years ago. Its worked flawlessly for me, but I admit I dont work it very hard. Airing up tires, car tires, lawnmower tires, wheelbarrow tires, etc. It runs my HF 1/2 impact just fine, but I have to wait for the compressor to run up and kick off first. Runs my HF 3/8 air ratchet fine too. Great little compressor.

Review by 20KW on October 31st, 2009

I have the 2.5HP 8 Gallon #90385 which is discontinued now.

Had this Junk Heap for 2yrs. I put maybe 2 hours Total Time on it. Pressure switch broke. Run Capacitor is out now. The one on there now is wired in without splices or wire nuts. Just wire semi twisted together and wrapped with 2 inch long peice of electrical tape.
When it arrived at my home it had a broke wheel,broke cover and screws missing out out the pressure gauge. 12 weeks I finally got a wheel, of course it wouldn't fit as the axle hole was to small. Never saw the cover or screws or replacement gauge.
Now I have a useless pile of Junk.

BEWARE!!!!!!

Review by big wes on August 23rd, 2009

I love this air compressor! After doing a lot of research and looking at a lot of brands, I finally settled on this model. I admit, I was a little hesitant to buy it, but I purchased it and an extended warranty for less than $100. I'm not going to use this everyday, but I want it to work when I need it. So far, it has worked flawlessly.

It has enough CFM to run most of the small tools that I need. Trimming out my house was so much easier thanks to this air compressor and finish nailer (66872-0VGA) from Harbor Freight. I'm going to pick up an air ratchet for working on my mower, and this compressor can handle running it. The wheels are great for moving it around, and the two handles make carrying it easier. It is oil lubricated, so grab at least two bottles of compressor oil. That should get you started.

The only complaints I have is that it is loud, but not more so than the Bosch pancake compressor the flooring installer used when he was putting down the underlayment for the vinyl floor. It is also a little difficult to adjust the air flow to the desired PSI. Since this is my first air compressor, it could be that all compressors are difficult to adjust and it's just me. Neither flaw are deal breakers or bad enough to justify deducting points.

I've really enjoyed this purchase and I'm going to put it to use again when I panel and floor my outbuilding. If this compressor lasts, then this will be one of the best purchases I've ever made. I can wholeheartedly recommend this compressor. If you can catch it on sale and use a coupon, this is an absolutely fantastic value. Throw in an extended warranty, and you can still be out of the store for under $100. Sweet!
Post a Review
Log in or create a user account to post a review!