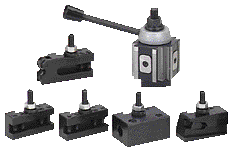 10"-15" Swing Quick Change Toolpost and Holder Set - 34816

Ratings: (5 is best)



1 2 3 4 5

Review by Goomer on March 23rd, 2012

I picked up a slightly used Grizzly lathe/mill combo years ago and quickly realized the stock toolpost holder wasn't going to cut it. This is identical (as far as I can see) to the one Grizzly sells, for about $30 less. Picked it up on a coupon, it took some minor modifications to work right, but it really does work well. The threads in the aluminum "nut" at the top of the tool post stripped out, I made a new handle in a larger thread size, drilled and tapped the nut and all is good. The head in at least one of the allen screws stripped out, not a big deal.

But, it works just fine. The tool holders work alright. Anyway, I'd buy another one knowing what I know, I don't think there are any better choices out there, at least not for anything close to the price.
Post a Review
Log in or create a user account to post a review!