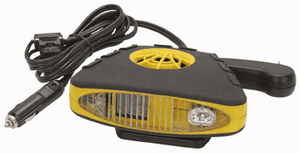 12 Volt Rubberized Heater with Fan - 96144

Ratings: (5 is best)



1 2 3 4 5

Review by Bigplanz on November 12th, 2009

I bought this for $10, thinking it would be useful for maybe defrosting the window of the car when it got cold. Well, the heater works, but isn't exactly hot or effective at heating up a window. I is useful for spot heat on your hands or ears in a cold car, and could be useful for blowing some hot air on your hands if you were outside changing a tire in cold weather. What is most useful, however, is the little built in light. This thing has a small LED light and a fold out handle, so you can use it for a spot light. I have used it to check the wiring under the dash, and it would be useful for finding lost objects on the floor of the car. All in all, I guess it's worth $10.
Post a Review
Log in or create a user account to post a review!