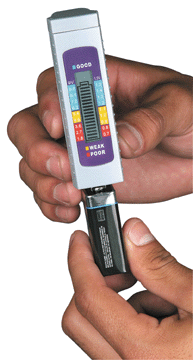 DIGITAL BATTERY TESTER - 96273

Ratings: (5 is best)



1 2 3 4 5

Review by Goomer on February 9th, 2017

I just read a review on a $90 battery tester and remembered this. This is and has been for years my "go to" battery tester. It will test AA, AAA, C, D and 9V batteries. Nowhere near the variety of the $90 one, but this satisfies 95% of my battery testing needs. For the does a $84 difference in price, I can buy a hell of a lot of batteries or drag out my meter. It is a bit picky on how the tester contacts the battery terminals. But, it works. Easy to read, doesn't need any power, is compact, sits in the drawer and is there when I need it.
Post a Review
Log in or create a user account to post a review!