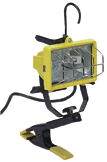 150 WATT PORTABLE CLAMP LIGHT - 35149

Ratings: (5 is best)



1 2 3 4 5

Review by Goomer on February 13th, 2010

A very versatile light. Seems well made, I use it for welding to counteract background lighting, shine it down a wall when finishing sheetrock to pick out flaws. Lightweight, seems durable, small enough to fit in my work van. I used to carry a trouble light, but this replaced it, it is much, much brighter.
Post a Review
Log in or create a user account to post a review!