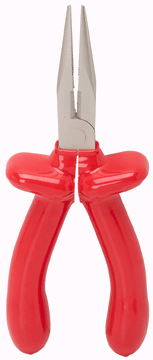 8" Long Nose High Voltage Insulated Pliers - 96906

Ratings: (5 is best)



1 2 3 4 5

Review by photoleif on March 20th, 2012

This is the bomb for the price. These have a nice burnished finish, of course the heavy vinyl layering on anything your hand would come in contact with, and they just plain work. Not that I've used them for very high voltage work, but there's no issue with 120VAC. The jaws close properly, the center pin is tight, and overall I'm quite pleased with these. I go through needlenose pliers due to bending Romex, which tends to spring apart the center pin. So we'll see how long these last. For now, I think it's a winner.
Post a Review
Log in or create a user account to post a review!