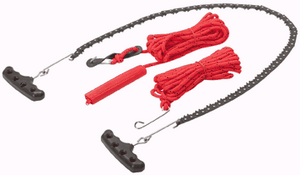 High Limb Rope Chain Saw - 97092

Ratings: (5 is best)


1 2 3 4 5

Review by photoleif on March 23rd, 2012

This was a chance buy after becoming frustrated with using an axe and a bow saw to fell small trees. It may sound like overkill, but at 9500 feet the wood is pretty dense and a 6" diameter tree can be 120 years old. This handheld chainsaw did exactly what i was hoping it would, namely reduce the time from hours to minutes and make the job easier at that. It does also work as a throw to higher branches. I ended up with an extending pruner for that instead, but keep this because of how very effective it is when used without the ropes. I found out that rate, not force, is the deciding factor for how fast it goes. Too much pull, it jams. Too slow, and it doesn't eject the chips. With fresh arms, you make a pile of chips much like a real chainsaw does. Just at 3% the rate.
Post a Review
Log in or create a user account to post a review!