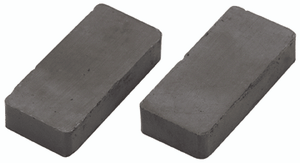 CERAMIC BLOCK MAGNETS, 2 PACK - 97504

Ratings: (5 is best)



1 2 3 4 5

Review by Goomer on June 6th, 2016

Surprisingly strong magnets, uses only limited to your imagination. Price is as good as I've seen. I've got one up on a metal rack that is the catchall for miscellaneous small steel parts, like pins, safety pins, whatever. Just sort of point the object in the right direction and it sticks.
Post a Review
Log in or create a user account to post a review!