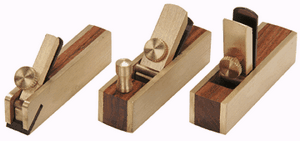 3 Piece Micro Brass Plane Set - 97545

Ratings: (5 is best)



1 2 3 4 5

Review by kwame on January 25th, 2011

To be fair, I will rate these planes individually:

The 'bench' plane is excellent. After lapping the sole, which only took a few minutes, the wood was a little a proud of the brass. I sharpened & honed its blade using the "Scary Sharp" Sandpaper System. Tested it on a pine 1x2 and a 4/4x4/4 piece of teak. Rating(5)

The 'chisel' plane. Again, I lapped the sole, and sharpened & honed its blade. I found it 'usable' in a routed corner of a piece of oak, I prefer a regular chisel! Rating(4)

The 'scraper' plane, mmmmm. Once a again I lapped the sole and sharpened the blade, remounted the blade and tried it on a piece of teak - no curls, just sawdust. I tinkered with the set screw in the rear of the plane, more sawdust. I then had my 'aha!' moment. re-honed the blade, but left the wire barb, reversed the blade in the mount (barb forward) --- curls not sawdust!!! Rating(4)

In conclusion, the 'chisel' & 'scraper' are on the shelf, cute but not used for my current projects. The 'bench' plane is in the pocket of my apron along with my low-angle block plane. It's perfect for putting on a micro-champher when a project needs one. BTW, current project strip-built 15' kayak.
Post a Review
Log in or create a user account to post a review!