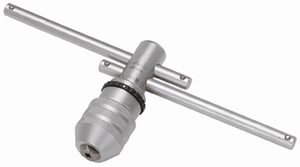 T-HANDLE TAP RATCHET WRENCH - 97633

Ratings: (5 is best)



1 2 3 4 5

Review by moabjeeper on February 13th, 2011

I gave this tool this rating for two reasons:
1) Its too expensive, at least for Harbor Freight.
2) When you tap a hole, you have to reverse the tap every so often to break the chips. Because of the ratchet feature, in order to reverse to break the chips you have to set the tool in its neutral position. This is a pain, and I end up using the tool in neutral all the time. The ratchet feature does make it somewhat more convienent to back out though.

My recomendation: get a normal, high strength T-handle tap wrench and you will be more happy, and it will last you the rest of your life.
Post a Review
Log in or create a user account to post a review!