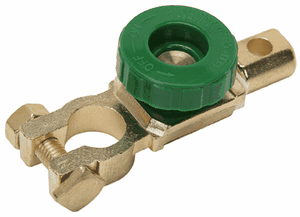 BATTERY DISCONNECT SWITCH - 97853

Ratings: (5 is best)



1 2 3 4 5

Review by jonw9 on May 3rd, 2013

To me, ideally this should have had a dummy battery terminal to clamp the cable to. Instead it has a metal "shaft" with a hole in it. So you need to either create and attach a dummy battery terminal, or find a long bolt and nut to go through the "shaft" and through the clamp on the cable. Very difficult and awkward at best.

In addition, it's certainly not a quick disconnect; you must unscrew and completely remove the knob - and pull out the "shaft" portion without losing a teflon square washer (which serves only to make a poorer connection with smaller surface area). Then you can either put the knob back in, or put it away and risk losing it.

To me, this is a terrible design. I modified mine by slotting the hole in the clamp portion, so I can just loosen the knob and pull it loose.
Post a Review
Log in or create a user account to post a review!